Classes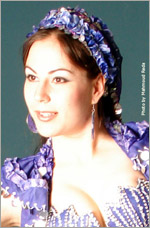 "When I teach, I want to give my students as much as they can digest. It is very rewarding to witness the progress."
Outi is a highly respected teacher. She has students all over the world and she also travels internationally to give workshops.
Outi emphasises building a strong technique on which the student can base her own dance style. Outi specializes in the Egyptian style of Oriental dance and interpretation of music, as well as many other Middle Eastern folkloric dances. She also does coaching for aspiring performers, sharing with them what she has learned when dancing for the demanding Egyptian audience.
Even though her repertoire consists of variety of subjects Outi has become known for her clever way of teaching Egyptian technique for foreigners. Her new on-line workshop is all about how to dance in a more Egyptian way. She is also frequently asked to teach milaya technique and dance routines. In addition to these topics and Egyptian style oriental (including balady and shaabi) Outi teaches most Egyptian folkloric styles (saidi, haggala, nubian, fellahi, ghawasee, simsimeya) as well as khalegy from the Gulf.
She is available for private classes in Cairo as well as workshops worldwide.
Contact Outi for rates and to arrange your class.
"Outi is really the best kept secret... terrific performer and instructor."
(Saqra, Seattle USA)

"I recommend Outi's classes to give your dance the true and relaxed Cairo feeling, musicality and latest Egyptian technique."
(Kaidi Udris, Estonia)
Private classes via SKYPE
Outi is giving private classes via Skype to all over the world. If you are interested of new technique, Egyptian style or just want some new ideas for your dance, contact Outi for some privates. Some slots are available at the moment!
Summer classes 2015
Helsinki

Mondays 1.-22.6. (4 times)

6pm - 7.10pm Technique 50 €
These classes include different technique each time. They are lot of fun with cultural information included.
About intermediate level
At Studio Sfinksissä (Työpajankatu 10 A 4.krs, Helsinki)

Registration etc. outi@outiofcairo.com or phone 050 533 1551


There will be workshops in Finland and other countries in the Autumn 2015. More information later!
Workshops 2014
ESTONIA
Tallinn
Saturday 21st of June

4.15pm -6.15pm Folklore in the Oriental Dance

During this class Outi will give you ideas how to adapt folklore styles in oriental performance. She will demonstrade the differencies in the folklore performance and oriental style dance. She will concentrade on the steps, style, feeling and also talk about the music.

At Müstika Dance Studio (Pärnu mnt 41, Tallinn)

Registration Raqs Mystique


FINLAND
Turku
Saturday 13th of September

11am - 1 pm Technique Outi's style
1.30pm - 4.30pm Choreography for a classical music

At Moon Dance Studio (Karjakatu 35 B, 2. krs, Turku)

Registration Anu Toivonen


DENMARK
Roskilde
Saturday 15th of November

9.30am -11.30am Egyptianize Your Dance

During this workshop Outi will demonstrate different techniques used by Egyptian dancers. She teaches how to use weight changes and muscle contractions to change the quality of the basic movements.

At Glostrup Hallen (Stadionvej 80, 2600 Glostrup)

Registration Danish Open Bellydance