Performances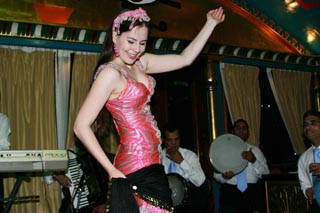 Outi has performed to excited audiences all over Egypt along with her orchestra and folkloric dancers. She has also worked in other Arab countries and the Philippines.
At the moment Outi is working in Nile Pharaohs cruising restaurant on the Nile and Holiday Inn Hotel, Citystars.
Her show consists of a variety of numbers, including cabaret, Alexandrian dance, saeedi, baladi and classic songs from such beloved artists as Oum Kulthoum. Veil, milaya leff, shamadan and assaya can be incorporated into the show.
Outi and her group are available for weddings and other private bookings.